Italy cable car falls : 8 dead after accident near Lake Maggiore Italy.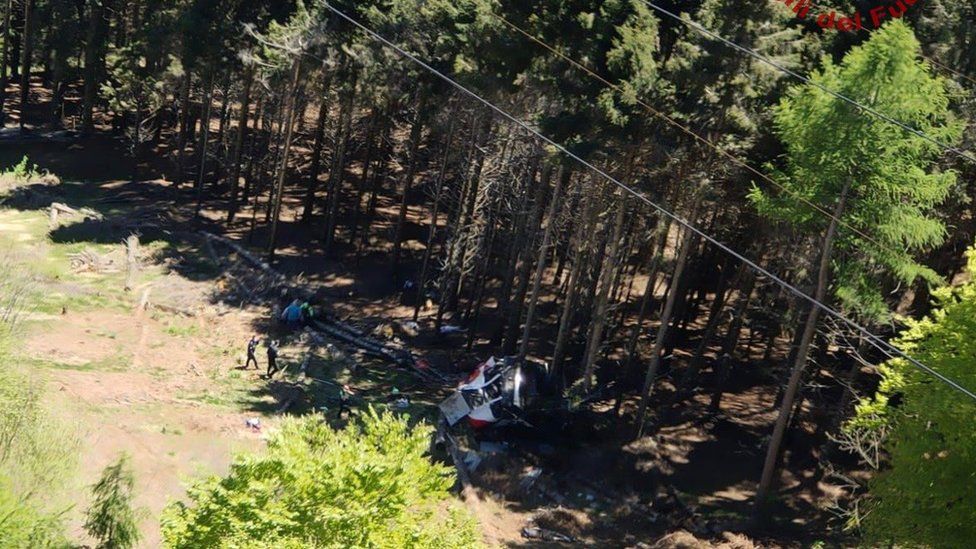 At least 8 people have died after a cable car fell on a mountain near Lake Maggiore in northern Italy on Sunday 23rd May 2021. The accident happened on a service transporting passengers from the resort town of Stresa up the nearby Mottarone mountain in the region of Piedmont. An image posted on social media by emergency services showed the wreckage of the car lying in a wooded area. Officials say two children were taken from the scene to a paediatric hospital in Turin by helicopter.
"It is a very serious accident," Walter Milan, a spokesman for the national alpine rescue service told RaiNews24 television, adding that the cable car was left "crumpled" after falling from a high height. the cause of the incident remains unclear, but local reports suggest the cable carrying it may have failed about 300m (984ft) from the top of the mountain.
The website for the Stresa-Alpine-Mottarone cable car said it usually takes 20 minutes to transport passengers 1,491m above sea level. Mottarone is situated between Lake Maggiore and Lake Orta, offering scenic views of the region for tourists. The cable car service had recently reopened following the lifting of coronavirus restrictions, Reuters news agency reported. Italian news agency Ansa said the cable car had been carrying 11 people before the accident.